Dear Peirce Community,
We are less than two weeks away from the annual Peirce Book Fair and we are very excited to invite you and your family to join us as we Leaf through some Great Books!! Every class will attend the Book Fair on Thursday, October 12 or Friday, October 13. Your child will bring home flyers for the book fair this week and in case they get lost, copies are attached to this email. The books range in price between $5 – $25 dollars.
If you would like to volunteer to help set up, break down, participate in the community day and/or supervise when your child's class is at the fair, please sign up here. Don't be shy, we need volunteers! Please sign up!! It's a great way to meet Peirce community members and make new friends.
Additionally, for the 2nd time, we are organizing a fun Peirce Community Day for the final day of the book fair on Saturday, October 14, from 9am – 12pm.
We need your help to make the day fun and fabulous and hope you'll sign up to help bring treats and participate in some of the fun activities we have planned! Our Community Day will be a great opportunity to reconnect with Peirce families and friends. Activities include: DIY gimpy keychains, decorate a fall pumpkin, design your own wooden bookmark, yummy treats, and of course — books for sale!
We hope you will join us in volunteering to put on this fabulous event for our students and in purchasing books. We look forward to seeing everyone!
Kindly,
the 2023 Bookfair Committee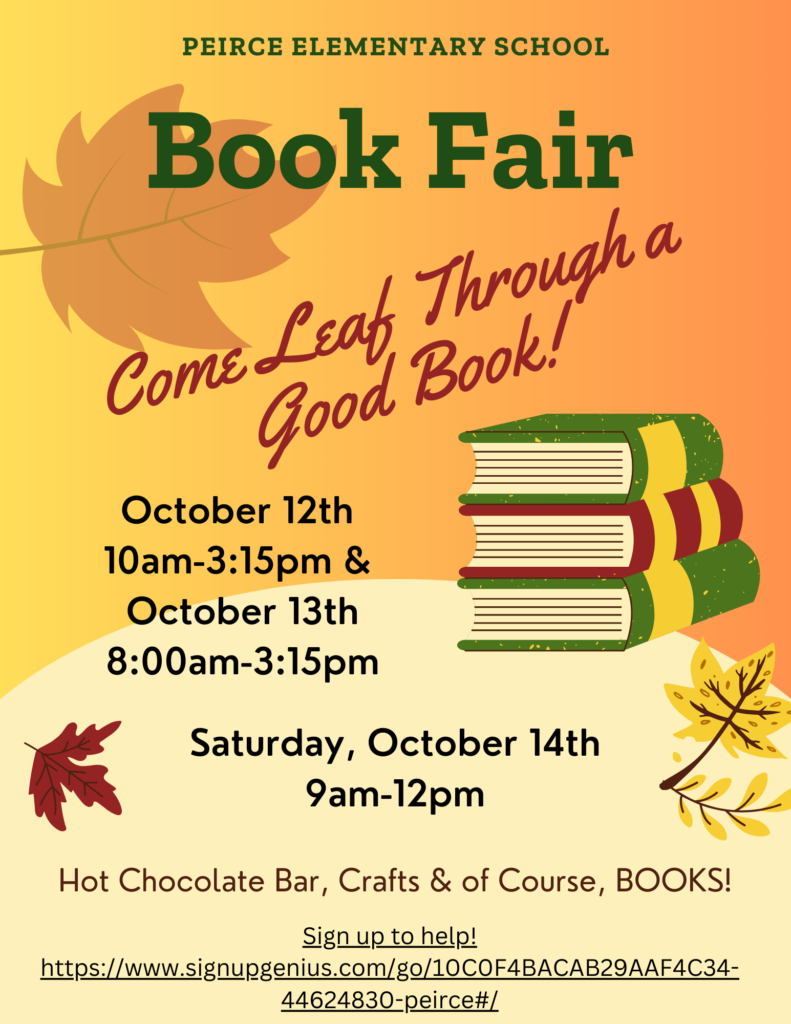 Book-Fair-101-1