For the 2021-2022 school year…
At this time, we are especially looking for additional volunteers for Fall community events. Securing planning support now will position us well to hold these events in the Fall:
Back to School Picnic Chair & Committee – Committee chair leads committee members to plan, assign, and execute all tasks for picnic within budget approved by the PTO Board. Responsible for communication with the PTO and accounting for all expenses and income generated. Committee tasks include: select event date, obtain building permit, coordinate janitorial services, recruit and coordinate parent volunteers, choose food vendors, communicate with PTO leadership, manage event promotion (including drafting content for the weekly PTO newsletters, stand along messages, flyers, and bulletin boards), procure supplies, be present at the event to ensure a successful picnic, and help clean-up as needed.
Fall Activity Fair Committee –

NEW FOR 2021! The PTO is planning an Activity Fair for Fall 2021. This will be an opportunity for local organizations and businesses (dance studios, sports programs, tutoring, and other kid-focused enrichment programs) to come to Peirce and share information about their offerings. We believe this will be a valuable resource for the community, a fun way for families to meet and reconnect during the new school year, and will help raise money for the PTO. The committee will be responsible for all aspects of the event including developing a pricing structure, soliciting / securing participation of local businesses, identifying a date/time, securing permits and supplies as needed, and advertising. Work will begin this summer to be ready to hold the event shortly after the return to school.
Mystery Dinner Committee –

Three committee members plan and execute the Mystery Dinner while working within a specified budget approved by the PTO Board. The Mystery dinner is one of the two major fundraisers at Peirce. The Mystery dinner raises approximately $15k through ticket sales and donations – enough to cover the cost of the Creative Arts and Sciences (CAS) programming for all Peirce students. The committee works as a team to select venues for cocktails and dessert, recruit dinner and dessert hosts, solicit donations for alcohol and desserts, sell tickets, create all marketing visuals (flyers, posters, save the date, invites, PTO weekly newsletter blurbs, etc.), monitor ticket sales, order and purchase all food, choose theme, create invitations, and balance capacity and attendance. Hours breakdown: 25 hours for committee meetings +3 hours set up + 6 hours event + 4 hours attendance at other school events to promote event and line up hosts.
To learn more about these positions and others, click on the PTO Parent Handbook link below. To volunteer, submit the Expression of Interest Form.  Any questions?  Email PeircePresidents@gmail.com.
Volunteering with the PTO.
PTO parent volunteers are an integral part of building community at Peirce. We welcome help from everyone in the school community! Click on the PTO Parent Handbook to learn more about options for getting involved and complete the Expression of Interest Form to volunteer for the 2021-2022 school year!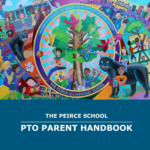 Volunteering inside the school or on field trips. 
All parents who volunteer inside the classrooms or library, or plan to chaperone a field trip are required to complete and submit a Cori/Sori. Please click here to access the instructions and forms via the Newton Public Schools website.