Volunteering with the PTO.
PTO parent volunteers are an integral part of building community at Peirce. We welcome help from everyone in the school community! Click on the PTO Parent Handbook to learn more about options for getting involved during the 2022-2023 school year!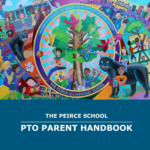 Volunteering inside the school or on field trips. 
All parents who volunteer inside the classrooms or library, or plan to chaperone a field trip are required to complete and submit a Cori/Sori. Please click here to access the instructions and forms via the Newton Public Schools website.