For the 2021-2022 school year…
At this time, we are especially looking for additional volunteers to fill roles that start in the fall.  If you are interested in serving, please contact us at PeircePresidents@gmail.com.
Principal's Coffee Coordinator – The coordinators arrange and organize coffee and light refreshments for parents who attend the scheduled Principal coffee morning meetings. Members generally attend the meetings and help with clean-up afterwards.
1st & 4th Grade Creative Arts & Sciences Coordinators –

CAS grade-level coordinators must attend a mandatory orientation meeting in October. Grade-level coordinators transition programs that were selected in May/June of the prior school year. Coordinators ensure date, time, and location of events are confirmed and do not conflict with other events. Each grade-level coordinator manages one program per year.

Day of program, the designated coordinator ensures that the room is properly configured, required equipment is tested and ready, and greets the presenter and escorts to location. Coordinator provides lunch, snacks, and water for the presenter. The coordinator writes up the evaluation for parents and families and sends a thank you note to the presenter. Grade-level coordinators are required to write an introduction email describing upcoming programs to distribute to parents for their grade.
Safe Routes to School Committee Members

–

Identify safety issues affecting routes to Peirce and bring issues to the City of Newton's attention to address. Organize safe walk and bike to school events, including coordinating with Mr. Nye and the PTO's METCO Co-Chairs. Write marketing reminders for PTO Weekly newsletter about Walk to School Day (first Friday of every month from October through June). Attend the city's Safe Routes to School monthly meetings.
To learn more about these positions and others, click on the PTO Parent Handbook link below. To volunteer, please email PeircePresidents@gmail.com.
Volunteering with the PTO.
PTO parent volunteers are an integral part of building community at Peirce. We welcome help from everyone in the school community! Click on the PTO Parent Handbook to learn more about options for getting involved during the 2021-2022 school year!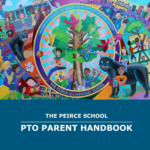 Volunteering inside the school or on field trips. 
All parents who volunteer inside the classrooms or library, or plan to chaperone a field trip are required to complete and submit a Cori/Sori. Please click here to access the instructions and forms via the Newton Public Schools website.