The Peirce PTO and the Mystery Dinner Committee invite you to join us for…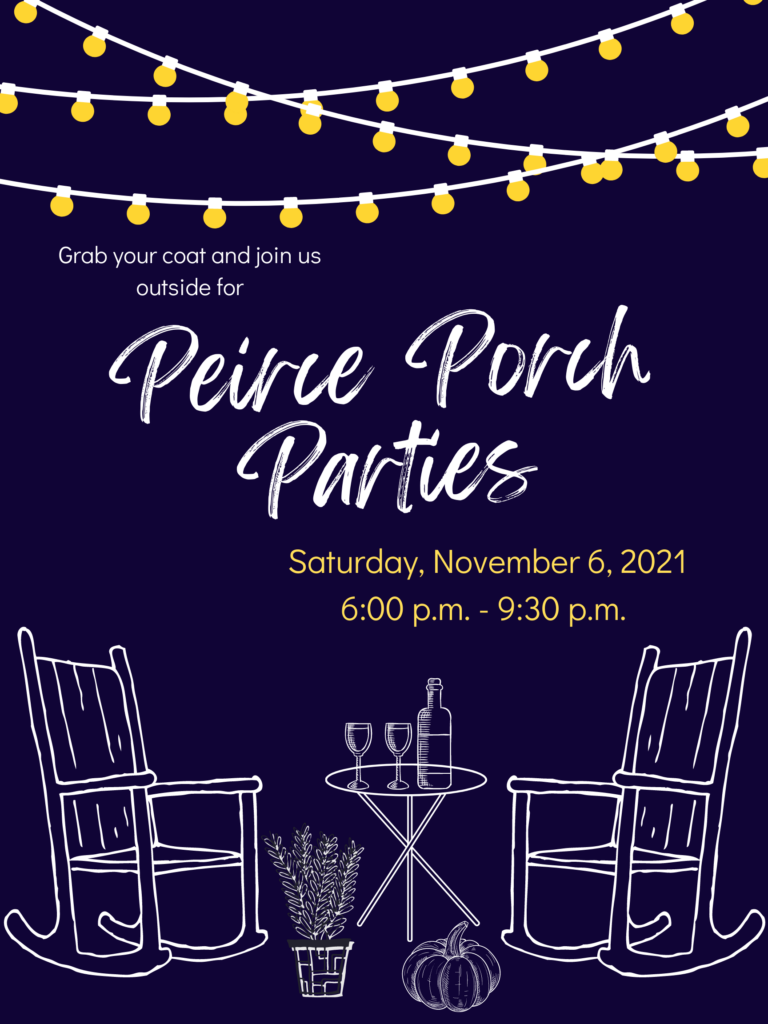 Register Now!
Registration is now OPEN for the Peirce Porch Parties! Please sign up here by Saturday, October 30th.
What are Peirce Porch Parties?
Peirce Porch Parties will be taking the place of Mystery Dinner this year, which is historically Peirce's largest fundraising endeavor. While we are unable to proceed with Mystery Dinner exactly as it's been done in the past, we are thrilled to be able to offer a new fun and safe way for our community of parents to gather for a night of cocktails, food, and fun! We will still start the night with a mostly-outdoor cocktail reception at The Neighborhood Club at 6PM. Mingle with friends new and old and find out where your Porch Party location will be. At 7:30PM, head to your host's home and enjoy more food and drink. The proceeds raised from ticket sales for this event are able to fund the Creative Arts & Sciences programs and additional academic enhancements for our kids!
How can I help?
This year, we are looking for volunteers to host cocktail gatherings of 10-20 adults on your porch, patio or around your backyard fire pit. Hosts will provide light cocktail fare and a variety of beverages. Get creative with the theme – cheese and charcuterie with your favorite wines, Oktoberfest beers with pretzels and sausages, even apres-ski snacks with hot toddies. NOTE: access to indoor restrooms and hand sanitizer is required.

To volunteer to be a host, or ask any logistical questions, please contact: Abby Blake ([email protected]), Sarah Cammarata ([email protected]), or Maura Mitchell ([email protected]).